30 Jan

Laser Enhanced Spinal Decompression

Posted at 22:35h

in Uncategorized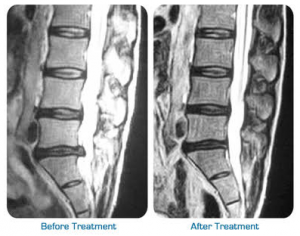 Laser Enhanced Spinal Decompression is the most advanced and effective non-surgical therapy currently available that has the ability to provide immediate relief from back, neck, and leg pain. Laser-Enhanced Spinal Decompression successfully treats and cures over 93% of neck and back pain caused by herniated discs, spinal canal stenosis, arthritis of the spine, and other spine and disc conditions, without surgery!
When the non-invasive treatments of Non-Surgical Spinal Decompression Therapy and Laser Therapy are combined the results are profound. It decreases pain, decreases inflammation, and promotes healing that enhances the body's normal abilities. With this treatment you may be able to avoid surgery and anesthetic injections.
The process of Spinal Decompressionuses computerized mechanical traction forces in a gentle rhythmic pattern to pull apart the spine in order to return the disc to its proper shape and function. The patient lies on the table which gently distracts the spine in a comfortable and pain free manner. These treatments last from 10-­20 minutes and help to decrease disc pressure, promote the flow of nutrients and fluid into the disc, and take pressure off of spinal nerves..
Low Level Laser Therapy is an amazing therapy that often exceeds most people's expectations. This therapy is revolutionizing the Medical, Chiropractic, and Pain Relief Industry. The Laser works on a cellular level by a process called PhotoBioStimulation. Prompted by photonic light energy into deep lying structures of the spine, cells are stimulated to produce ATP (the substance your cells use for energy). Increased levels of ATP will lead to an increase in cellular activity resulting in a decrease in inflammation, decrease in pain, improved circulation,and a rate of healing that is three to five times faster then the bodies capabilities by itself.
When used together and over a consistent treatment plan, Laser Enhanced Spinal Decompression can provide a safe, non-­invasive treatment to disc disorders that can be an alternative to medication, injections, and surgery. Conditions that have been found to provide relief are degenerative disc disease, herniated/bulging discs, sciatica, spinal stenosis, neuropathy, and carpal tunnel syndrome.
Laser-­enhanced Spinal Decompression is an effective treatment and alternative to surgery for the following spine, disc and nerve conditions:
• Annular Tears
• Degenerative Disc Disease
• Degenerative Joint Disease
• Facet Syndrome
• Failed Back Surgery
• Foraminal Stenosis
• Groin Pain
• Headaches
• Herniated Discs
• Hip and Pelvic Pain
• Leg Pain
• Low Back Pain
• Neck Pain
• Neuralgia
• Numbness or Tingling
• Pinched Nerve
• Sciatica
• Spinal Stenosis
If you are experiencing back, neck, hip, or leg pain, or have been diagnoses with any of these conditions, make an appointment for a consultation to learn if Laser-­Enhanced Spinal Decompression can help you.
Call (021) 4857669o.